YardEdge
Residential Grade Landscape Edging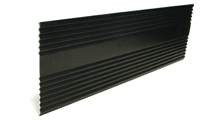 YardEdge™ is a professional quality aluminum landscape edging designed for use in residential landscapes. YardEdge incorporates many of the features of our premium commercial product lines in a lighter, more cost effective material. Known for its quality, ease of installation, and long-term durability, YardEdge is a superior alternative to plastic, steel, and wood.
Engineered to maximize design sustainability and provide long-term durability by withstanding the demands of residential landscapes.

Designed with a unique, patented stakeless connection system that snaps down to permanently interlock adjacent edging sections – eliminating horizontal separation or possible weak points.


Includes heavy-duty 12" interlocking aluminum stakes that securely anchor it into the ground, providing long-term durability and easy installation.
[dropshadowbox align="none" effect="lifted-both" width="750px" height="" background_color="#21db46″ border_width="1″ border_color="#dddddd" inside_shadow="false" ]
Contact us today and get 10% off your next order 
[/dropshadowbox]
Sizes & Finishes
Please note that YardEdge is sold by the box and each box contains 4 x 1.8m. It is available in black/mill and green.
1/8″ x 4″

 (3.2mm x 102mm) Typically used on residential or light commercial applications. Excellent for curvilinear applications. Straight runs are attainable, but may involve labor due to product flexibility as compared to 3/16″ (4.8mm) thickness.