PermaStrip
L-Shaped Aluminum Maintenance Strip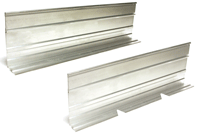 PermaStrip™ is a series of semi-rigid, L-shaped aluminum maintenance strips specifically designed to make straight runs and gentle curves bordering buildings, fences, and maintenance areas. PermaStrip is easy to install in perfectly straight applications or gentle curves, and is designed to maintain its integrity over the lifetime of the project.
PermaStrip's unique "L" shape is engineered to allow the aggregate material to be installed over the top of the horizontal base, resulting in an integrated installation.

PermaStrip solves the problems regular landscape edgings have forming straight lines by utilizing a rigid L-shaped profile, saving time and eliminating wavy, unsightly lines.


PermaStrip uses a unique, sliding connection system that provides quick alignment of sections during installation and eliminates any possibility of separation.
[dropshadowbox align="none" effect="lifted-both" width="750px" height="" background_color="#21db46″ border_width="1″ border_color="#dddddd" inside_shadow="false" ]
Contact us today and get 10% off your next order 
[/dropshadowbox]
Sizes & Finishes
PermaStrip is available in 16′ and 8′ sections.
1

/8″ x 4″

 (3.2mm x 101.6mm) Permaloc PermaStrip – Used in the same locations listed above where a taller edge is desired.

 


Permastrip is available in mill black and comes in 8′ lengths with "V" notches cut into the base, allowing a slight flexibility for gentle curves.