AsphaltEdge
Aluminum Asphalt Restraint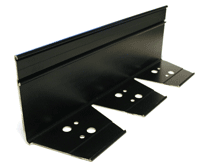 AsphaltEdge™ is a patented line of flexible, L-shaped aluminum asphalt restraints. One of the biggest drawbacks of asphalt compared to concrete and brick is an inconsistent edge. With Permaloc AsphaltEdge, you get a strong, uniform 90-degree edge. It installs quickly and easily, making your work stand out and providing a "finished look" – an excellent compliment to any asphalt installation.
Engineered to extend the life of asphalt pavement by helping to prevent broken edges, providing uniform thickness throughout the pavement surface, and providing a finished, maintainable look along the asphalt border.

Permaloc's patented AsphaltEdge is the only product specifically designed to be installed and perform as an integral restraint system for asphalt.


AsphaltEdge is designed for asphalt over aggregate, asphalt overlay, and asphalt over concrete, including residential, commercial and industrial applications.
[dropshadowbox align="none" effect="lifted-both" width="600px" height="" background_color="#21db46″ border_width="1″ border_color="#dddddd" inside_shadow="false" ]
Contact us today and get 10% off your next order 
[/dropshadowbox]
Sizes & Finishes (wall x base)
AsphaltEdge is available in 8′ sections.
1″ x 2-1/4″

 (25.4mm x 57.15mm) For asphalt applications

1-1/2″ x 2-1/4″

 (38.1mm x 57.15mm) For asphalt applications

2

" x 2-1/4″

 (50.8mm x 57.15mm) For asphalt applications

2

-1/2″ x 2-1/4″

 (63.5mm x 57.15mm) For asphalt applications.

3

" x 3″

 (76.2mm x 76.2mm) For asphalt applications

4

" x 3″

 (101.6mm x 76.2mm) For asphalt applications

 



Easy to install